Summary/ Description:
In Park & Ride, director Max Sohl combines everything you love about classic porn with Treasure Island Media's "no holds barred" brand of raw fucking and sucking, bringing it all together in his own singular style.
Fucking at rest stops, in the back of pickup trucks, in dungeons, in the woods, by a swimming pool—not to mention the grand finale, filmed in the back of a limousine in the middle of midtown Manhattan's rush hour: don't miss your chance to see your favorite TIM men like you've never seen them before!
Description / Review:
HITCHHIKER (featuring CAEDON CHASE and BRAD MCGUIRE):
While hitchhiking by the Park & Ride, CAEDON CHASE finds every man's ultimate fantasy coming true when he's picked up by über sexy BRAD McGUIRE. In no time at all, BRAD has CAEDON gutted on the back of his pickup truck, ramming, slamming, and bamming the kid in every conceivable position, and making young CAEDON beg for BRAD's cum before he even knows he wants it.
TAG TEAM (featuring CHRISTIAN, LITO CRUZ, and EDDIE):
The inevitable showdown between T.I.M.'s resident fuckhole CHRISTIAN and massive alpha top LITO CRUZ has been a long time coming. TIM wanted it to be perfect and asked the guys if they needed anything. "Just get him lubed up with sperm and ready for me," was LITO's only request. After all the fan mail TIM received for EDDIE and his beautiful, hole-impaling cock (last seen in UP THE GUT), TIM knew just who to call on—and Eddie was fuckin' overjoyed to oblige.
There's something for everyone in this scorching fuckfest, including EDDIE's double breeding and a wild intergenerational dicking when porn's biggest Latino Daddy top shows EDDIE the best way to use a manhole. All the while, LITO never loses sight of making sure CHRISTIAN's fuckchute is slick and dripping wet for his impressive, uncut tool.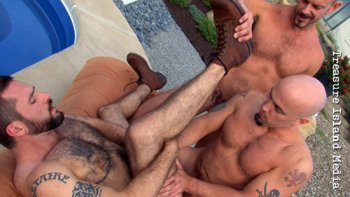 WOODS (featuring CAEDON CHASE, LiGEE, and EDDIE):
When CAEDON finds himself alone in the woods, it's not long before he becomes the object of LiGEE's desire—and massive 10-inch dong. Right at home bent over a tree, CAEDON eagerly takes every thrust of that fat cock deep in his needy hole, ultimately filling him with goo and leaving him thoroughly spent. Before he can catch his breath, though, CAEDON realizes EDDIE has been watching the encounter, and isn't going to let the boy walk away before impaling that sweet hole on his pretty dick.
PIG ROAST (featuring MIKE MASSEY, BRAD McGUIRE, and COLIN STEELE:
Newcomer MIKE MASSEY makes his porn debut with Treasure Island Media as the pig roasted between the infamous BRAD McGUIRE and impressive 6' 4" hunk COLIN STEELE. This one was filmed at perhaps one of the most stunning outdoor pool locations ever seen in a TIM video (though, really, who the fuck cares about the scenery when you have these men getting down and dirty in front of it?).
MIKE told TIM his fantasy was to get bred by BRAD. Just for fun, TIM threw COLIN into the mix, and it quickly becomes obvious that the new bottom is almost overwhelmed by the non-stop assault of cocks in his mouth and hole. Not that it stops him from begging for their loads, which you know is exactly what he's gonna get. That'll do pig. That'll do.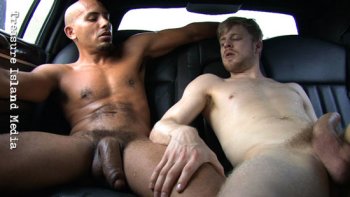 DOUBLE DICK (featuring CHAD BROCK, LITO CRUZ, and ROSS SCOTT):
This one starts off like your run-of-the-mill threeway, with LITO CRUZ and CHAD BROCK getting their fuck-high on as they take turns using all of ROSS SCOTT's orifices (in his TIM debut). But this is Treasure Island Media, and nothing is ever "run-of-the-mill" with them. With CHAD's cock balls-deep in ROSS, LITO suddenly decides he doesn't want to wait his turn and unceremoniously slams his dick into CHAD's ass while his fellow topman is still fucking ROSS. Everybody wins.
BOILER ROOM (featuring CAEDON CHASE and COLIN STEELE):
When it's his turn with CAEDON CHASE, bull stud COLIN STEELE takes the li'l fuckslut to the lower depths of the boiler room and demands the boy submit to his cock. COLIN eats his ass, makes the kid suck his cock, and then throws him down for a great balls-to-the-floor pump and dump.
BANG BANG (featuring CAEDON CHASE, COLIN BLACK, CHAD BROCK, CHAMP ROBINSON, and LOGAN STEVENS):
CAEDON had barely caught his breath before we threw him to a horny sexpack of men who wanted to make sure he didn't forget he had signed on to be fucked until cum was leaking out his eyeballs.
COLIN BLACK, CHAD BROCK, CHAMP ROBINSON, and LOGAN STEVENS go at the fuckhole relentlessly, taking turns ramming him up and down on a couch, in every which way imaginable. The boy's hole has so much cum in it already that, almost immediately, white stuff drips out his butt.
By the end of the bang, all the men are well spent, their sperm seeded deep in CAEDON's used and exploited hole. As for this cumpuppy, the look on his face at the end tells you he couldn't be happier.
LIMO & RIDE (featuring ANTONIO BIAGGI and LOGAN STEVENS):
You might think you know all there is to know about ANTONIO BIAGGI. But trust us when we say you don't know a thing until you've seen him in this scene. For a start, the instantaneous chemistry between him and LOGAN STEVENS is palpable.
Shot in the middle of midtown Manhattan in the back of a limousine, ANTONIO and LOGAN go at it in broad daylight during rush hour. Giving new meaning to the term "park & ride," ANTONIO ruthlessly pounds LOGAN in the back seat, both of them so deep into it they don't give a fuck who sees them.
BONUS: CAEDON TRIES TO TAKE A FIST (featuring CAEDON CHASE and COLIN STEELE):
In addition to a Cumshot Compilation, TIM is giving you a special treat on this one: Part 2 of the Boiler Room scene between CAEDON and COLIN. After blowing his jizz, COLIN wanted to get all that sperm as far up CAEDON's gut as possible—and decided his oversized fist was the only way to do it. Don't miss CAEDON's heroic effort as he does his best to get the entire thing inside his tiny cavity.

Additional Information
Categories: UK R18 / XXX Gay Adult
Running Time: 158 mins, Year: 2012
Price: Around £36*
Starring: Christian, Brad McGuire, Antonio Biaggi, Colin Black, Chad Brock, Caedon Chase, Lito Cruz, Eddie, LiGee, Mike Massey, Champ Robinson, Ross Scott, Colin Steele, Logan Stevens
Director: Liam Cole
Studio: Treasure Island Media
Buy DVDs online at: Homoactive, Simply-Adult.com and RadVideo.com (USA)
Downloads Treasure Island Media titles at: Homoactive (UK/EU) and Radvideo (USA)
Country: USA, Language: English
Additional info: No Regional Coding