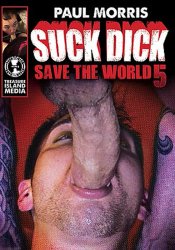 Also in this series:-

Summary:
Nothing in the world comes close to the feel of sliding your cock into a man's warm and welcoming mouth. Actually, the only thing that equals it is feeling a man's cock sliding into your own mouth, wide open and willing. If you suck cock once, it becomes a lifetime passion. Regardless of your profession, job, avocation, pastimes or hobbies, you become at your core and in your soul a cocksucker!
Description / Review:
Basic Training on a Big Dick
Cocksucker's mind = beginner's mind. No matter how long you've been an avid, devoted cocksucker, no matter how many hundreds of cocks you've served and serviced, there are always—always—opportunities for improvement. Chad, for example, has sucked many a dick. He started as a kid and never stopped. But even he was seriously challenged by the enormousness of Drew's cock. This was a chance to stretch his technique as well as his lips and gullet. Always take the opportunity to devote yourself to a solid cocksucking session with an impossibly big dick. It's just one of the many ways to become the great cocksucker you long to be.
Couldn't Wait to be Fed
Any man who sucks dick knows that particular zeal, that specific sensation that comes just from having a cock in your mouth. It's like the need for food, for sustenance. Before this session even started, Marcus had begged Flynn to feed him his load right off the bat so Marcus could settle in and glory in just having Flynn's dick in his mouth. Some men can't do what Flynn does here: once they shoot, that dick of theirs gets so sensitive they have to stop. For other men—Flynn being one—the post-orgasmic sensitivity is just that much more bliss. After giving Marcus a good long taste of cock, Flynn needs the favor returned and expertly sucks Marcus off, slurp-slurp.
Snot-Nosed Cocksucker-in-Training
Put a punk kid together with a mean-assed top and you have a blow job royale. I don't know what it is that brings out the tough-guy in top man haven, but a man's gotta take his anger out on someone. And who better to take it out on than a willing punk faggot-boy on his knees in front of you. Sometimes a blow job is good ol' fashioned sex, and sometimes it's different. Haven doesn't smile once during the session, but I know he left that room feeling a whole fuckuvalot happier. Li'l bottom boy Simon was left with some nice bruises, tears down his cheeks, and a bellyful of top dude semen.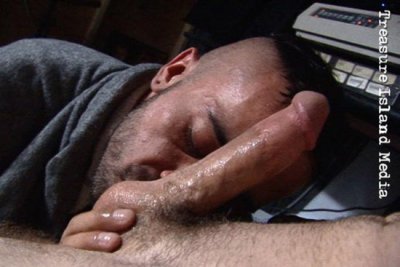 I Didn't Know They Made 'em That Big
Little Jay Davis (he stands 5' 5") is pretty much a bush-league novice at cocksucking, but he has the makings of a champ. And even though he knew he'd barely be able to stretch his tiny lips around Javin's black Moby Dick, he'd been pestering me for months for a chance to try. Now, you know that some cocks are made for sucking -- perfect size, shape, perfect girth and bend. But a huge ol' dick-slab like Javin's is a true test of a cocksucker's mettle. The thing's a multi-megaton fuck-missile. During the encounter, Jay sweats and gags and chokes—but he never fuckin' stops! Javin looks cool and imperious, towering over the cocksucker-in-training, but later he told me that it was a kick having the ambitious furry li'l fella kneeling before him, worshipping. "That boy's got talent," Javin opined. "Needs practice, sure, but got some real talent!" We'll be happy to give the kid all the practice he needs.
Truckee Sucks Torin
Truckee happens to be one of the great cocksuckers in SF today. He has no limits, no shame, no reservation whatsoever. The cock he's serving is God to him. Torin happens to have one of those perfect-to-suck dicks that goes right down your throat—not easy, but deep. When he roots that thing out of you, slow and thick, your throat has been stretched out permanent. Kneeling between those legs is a fucking honor.
Satan's Crotch-Monkey
Keaton had no idea what he was up against here. Luke is an odd dude, no doubt. But when he kneels in front of you, he disappears and all that's left is your cock. This is one scary dick-sucker. He has powers. Literally ONE SECOND after Luke slides Keaton's cock into his mouth, the top has to pull out QUICK and spurt some man-juice. "Whoa!" Keaton gasps. "That's never fucking happened to me before!" Luke is one of those guys who sold his soul to the Phallic God long ago. Like I said: he has powers. For the duration of this suck-trip, Keaton is given a very special joyride to man-heaven.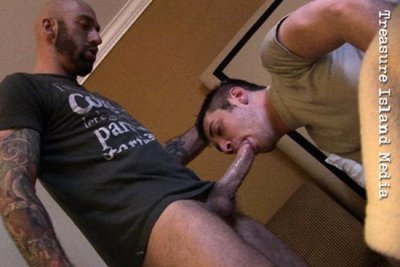 Shane Andrews Sucks Bam Bam
First time I met Bam Bam I knew this guy was what we used to call a "nut case." He's missing a few crucial gears somewhere in there. If you've seen him wandering around SF, talking to himself and doing odd things, you know what I mean. But the guy was blessed with the sculpted body of a demigod. And he has one of those perfect mid-range dicks that were made to slide into a mouth. Bam Bam's reactions are a little spooky during the blow job, but there's no doubt that Shane is having the time of his life. Give a cocksucker a cock and his life is perfect.
Simon Stevens Sucks Ameer
In real life Ameer was until recently—a hardcore boxer. He has a good number of solid KO's on his roster. And he's one of the sexiest, toughest dudes I've met. He fucking loves being in charge. And he knows what to do with a skinny little cocksucking faggot kneeling before him. Ameer is a talker. He grins that sexy mean-dude leer and talks tough to little Simon, grabbing his head, holding it where he wants it. He knows that Simon is just fine with being used like a jerk-off toy for this truly dominant man.
Backroom Sacrament
For a true cocksucker, for any true dick-worshiper, the dark back room of a sleazy dive bar can be a cathedral. God's there, man. Get on your knees and pray. These two smoke some pot, snort some poppers and commune via that heavy major meat that hangs between Drew's legs. If you're a lifetime dicksucker, you'll see yourself in this session. And I have no doubt but that you'll grin as you stroke yourself—don't come, man! Get on out there and suck some dick for yourself!
Man Worship
Every once in a while I encounter a cocksucker who has devotion, charisma, technique, and I want to share him with you. That's why the last three sessions of this edition of SDSTW feature cocksucker Pete. This is a guy worth studying and learning from. He's the real deal and I love watching him. Pete knows how to kowtow, get down fully and start worshiping a man by sucking and licking his feet. Now, Makavelli is a straight man—though, like most "straight" men he's cool with letting a man suck his dick—but he later told me that he'd never known what it was like to be truly worshiped before. The truth is that men together with men is something beyond what the straight folk call "sex." It's a different world, a different language, a different experience altogether. And once a straight man feels what it's like, he comes back for more. Every single fucking time.
Neither Man Said a Word
I wanted to see how Pete would deal with mean-guy Haven. The true cocksucker is half chameleon: he becomes exactly what the man he's serving needs him to be. This session is a fascination for me: Haven isn't just tough to please, he resists it. But Pete rides it out and delivers a blow job for the ages. Neither man says a single fucking word: they're all about that dick. And Pete gets the job done, and done well. The guy is the cocksucker's cocksucker.
Pete Summers Sucks Javin
Javin's mammoth cock is both a reward and a punishment for any cocksucker. Your eyes drink that crazy dino-dick in and long for it. But your mouth and throat get kinda tight and scared. "Can I do this?" you ask yourself. But despite yourself you fuckin' dive in and give it your best. Watching Pete square off with one of the biggest cocks in the Bay Area is a delight and an education. Now, some cocksuckers are masters of technique. Pete is even better: he's a master of attitude. He even knows how to let the top see his effort, his longing and his frustration: "I want that fucker down my throat, but there's no human throat big enough!
Additional Information
Categories: UK R18 / XXX Gay Adult
Running Time: 134 mins, Year: 2015
Price: Around £36*
Starring: Ameer, Shane Andrews, Bam Bam, Luke Bennet, Chad, Jay Davis, Drew Sebastian, Flynn Evans, Haven, Javin, Jon, Makaveli, Pete, Keaton Pierce, Truckee Rivers, Simon Stenevs, Marcus Stone, Pete Summers, Torin
Director: Paul Morris
Studio: Treasure Island Media
Buy DVDs online at: Homoactive, Simply-Adult.com and RadVideo.com (USA)
Downloads Treasure Island Media titles at: Homoactive (UK/EU) and Radvideo (USA)
Country: USA, Language: English
Additional info: No Regional Coding