Summary:
Manfucking is the heart and seed not only of a cult or a culture, but of a world. We embrace and embody our primal and native behaviors as men. We are the spawn of the daemons of our sex: our fucking is the holy consecration of ourselves and our world. To those who thoughtlessly or maliciously try to diminish, shame or impede any of our kind, to those who resist the inevitable and ancient power of who we are and what we have performed together since the dawn of time, I say with all my heart I AM COMING FOR YOU.
Description/ Review:

Scene 1- Maury Island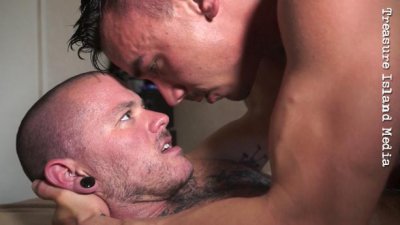 There's a great moment at the beginning of this scene. MAX CAMERON and JAY BRIX don't realize that the camera is rolling. They're molesting each other, smelling and tasting each other, getting to know the terrain. Then one of them sees the camera and everyone breaks out laughing.And the moment the laughing stops, they face each other again and get down to the serious engagement of man-fucking. And the connection between these two gets deeper and more intense throughout the fuck. MAX CAMERON is a man who knows the art of being a bottom inside-out. He's that rare thing, a classically beautiful guy who gives himself up completely without a trace of ego. I've enjoyed watching him from his very first work in porn. And now I think he's one of the very, very few guys who've made the jump to "porn star" who is still able to connect with a man on camera without a trace of acting or fakeness. MAX and JAY dig every single moment they're together. This is sex that clearly shows you that man-fucking is the highest and best art, and one that anyone can get right.
Scene 2: Great Falls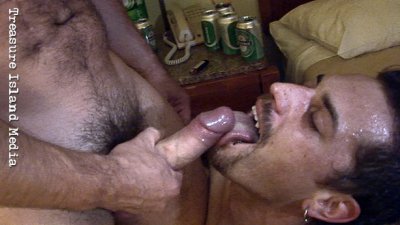 I've been saving this scene because it means a great deal to me. As you know, BRAD retired from porn last year. This was shot when MARK DAVIS first walked into TIM. There's no hunger for dick as powerful as that felt by a married guy who's tried staying straight for his wife. And MARK's history is especially rich -- his wife cuckolded him with a mega-hung lover. Then, for her own amusement, she had the lover butt-fuck MARK. And that's how MARK got pozzed and learned that his soul belonged to the realms of mansex. BRAD MCGUIRE is one of the master dominant cocksmen of his generation. With incredible economy of movement and speech, he knows exactly how to work any bottom on the planet into a white-hot rutting lust. This pure, thorough and virtuosic fucking is exactly the transcendental experience that MARK DAVIS needed and yearned for. You will see his proto-faggot submissive cuckold male soul transformed before your eyes into a wallowing wailing drug-addled slut-whore. Watch in awe -- and learn!
Scene 3: Cheyenne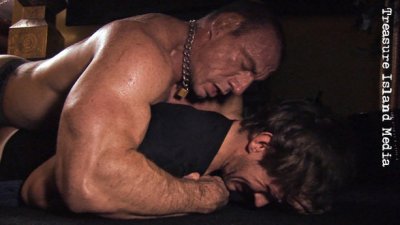 He said "I'm nobody now. I want to convert and once I do, I'll be a newborn." Truer words were never spoken. I asked him what I should call him. He said that he didn't want a name. He'd seen ED HUNTER mangling and destroying "The Fucktard" in BAD SEED. Here's the primal ritual laid out before you. It can't get any more human, more basic, more primal than this. I don't need to spell it out for you any more than these two do. "The Newborn" is hellbound and determined to become a living part of ED HUNTER's man-lineage. You will not see raw human need more plainly displayed than in the face of "The Newborn" as he begs, whimpers, cries for the seed-lineage belonging that only a man like ED can give him. ED, a gifted man, transmits a culture and world and a new life directly into the boy's body by doing what men are meant to do. At one powerful moment late in this session, ED asks the boy "Are you sure, boy? Cause there's no going back." And that's when the boy truly begs. If you've lived it, you'll recognize it.
Scene 4: Aurora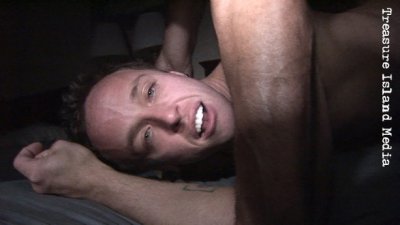 I'll be honest, I never expected this coupling to happen. But "The Fucktard" keeps falling off the wagon and bouncing straight to my door. And let's face it, a lot of men are at their best when they're at their weakest. That's one reason why so many of you have written to me begging for more of him. A man like "The Fucktard" awakens the dark souls of men like us. CALVIN happened to be in the town we were shooting in -- well, actually, we flew him in. Place called Aurora. It means "dawn", I think, and these two fucked until dawn. And I know why: pretty much everyone at TIM has taken a turn porking "The Fucktard" (could you say no?) and I can tell you from personal experience that that fucked-up drunk-tank lost-soul of a boy has an ass that was made for deep-dicking. The more fucked-up the boy gets, the better his hole feels. Scene 5 - Cape Girardeau
I've been trying to get IAN JAY back ever since his spectacular slut-show where he took over 1,000 LOADS for me. He finally relented and said he just wanted to sate his butt-hole with a single perfect dick. I said "I'll get whoever you want" -- I live to serve -- and he immediately asked for KEER. You might remember KEER from the infamous BONE DEEP session in which he pumped a gallon of milk up a submissive man-cow's ass and then added his warm fresh cream to the mix. That was one of the many scenes that's cost me a fortune in legal fees. This session is exactly what IAN wanted. He asked KEER to just lay back, be lazy and let IAN play with that mighty oak of a dick. In the trailer, you'll get a gander at IAN's wee li'l boy-butt sliding slowly-slowly-slowly down KEER's hero-sized phallus: it's a dick so fuckin' big it looks like it's from a different planet altogether. KEER was happy to oblige IAN's fantasy, and for the duration of the session he grins dreamily while IAN uses him as an oversized human dildo, finishing off with a rich frothy load of jizz up the boy's ass. A simple, straightforward hole-hunger satisfaction session.
Scene 5: Cape Girardeau
Scene 6: Hourglass Lake
Guys come to us every once in a while asking if they can wear a mask. There are all kinds of reasons. JOHNNY is a slut-in-training who happens to be from one of the oldest and wealthiest families in California. FYERFLI loves a tight fit for his fat cock, and even though tiny JOHNNY is developing into a major whore-hole, he's only 5'4", which means that FYERFLI got to feel that rich-boy hole stretch around his mighty dick, gripping it hard as he pumped him like a powerful big-horned stag in rut. This is what the revolution looks like: fuck the rich and leave 'em begging for more.
Scene 7: Hopkinsville
What can I say about CUTLERX that hasn't already been said? The man is a phenomenon. His dick is so fuckin' huge and thick it's a challenge for even the most broken-in and seasoned manhole. And his lust is epic and undeniable. Every man who has been in an encounter with CUTLERX ends up at least temporarily wrecked, limping, his guts rearranged and his life changed forever. But here's the thing: CUTLERX is also one of the most fucking decent men I've met. The fuck is just this side of rape, and you're truly lucky if your innards aren't torn up completely. But he's so damned nice about it while he rapes you that you have no choice but to give in completely. He owns you. WOLFIE BLUE wanted this but he had no fucking idea how life-changing and body-bruising the experience would be. He was, in a word, naive. But you let the naive bottom have his way and you watch him learn. In this session, all you have to do is watch WOLFIE's eyes as they get wider, then wider and then you see just a hint of panic. By the end of what's truly an olympic-level fucking, WOLFIE doesn't know his own body anymore. And CUTLERX, smiling sweetly, gently says "Thank you!" to the man he's just destroyed. A classic encounter.
Additional Information
Categories: UK R18 / XXX Gay Adult
Running Time: 115 mins, Year: 2016
Price: Around £36*
Starring: Max Cameron, Jay Brix, Mark Davis, Ed Hunter, Calvin, Ian Jay, Keer, Johnny, Fyerfli, CutlerX
Director: Paul Morris
Studio: Treasure Island Media
Buy DVDs online at: Homoactive, Simply-Adult.com and RadVideo.com (USA)
Downloads Treasure Island Media titles at: Homoactive (UK/EU) and Radvideo (USA)
Country: USA, Language: English
Additional info: No Regional Coding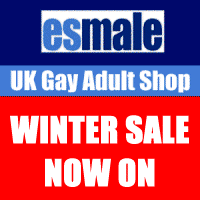 Esmale (UK Gay Adult Shop) sells a large range of gay adult sex toys including a range of fetish and restraint products, Cock and Ball play items, Whips, Paddles and Slappers, Blindfolds, Masks and Hood and are the UK stockist of Mr B leather and fetish products. They also sell a large range of men's designer underwear, condoms and lube, fleshjacks, jock straps and anal toys. Treat yourself!
Save an extra 10% on top of their already discounted prices with our exclusive code 'GAY10'. Click here to shop
See also: www.gayadultshops.co.uk