Summary:
Max Sohl takes us back to Fire Island for more cum, piss play, and uninhibited fucking. Abandon your load all ye, who enter THE MEAT RACK!

Description / Review:

Scene 1: MEAT (featuring CHRISTIAN and HOT ROD)
When megahung HOT ROD discovers notorious slut bottom CHRISTIAN waiting in the MEAT RACK, his primal instincts kick in and in no time at all, he has the ravenous fuck junkie bent over a tree trunk, impaled by his 10-inch monster of a cock. Even after HOT ROD breeds poor CHRISTIAN's hole with a huge load of cum, the domineering stud keeps plowing away with astounding relentlessness, until he drives a second payload of his precious nut into that greedy hole. CHRISTIAN slurps up every drop of sperm–and then, good li'l cumwhore that he is, implores the stallion topman to stick it in one more time.

Scene 2: BAY FUCK (featuring COLIN BLACK and LITO CRUZ)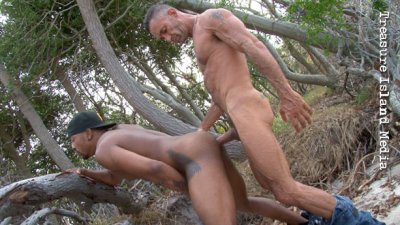 As COLIN BLACK sits by the dock of the bay, LITO CRUZ emerges from the thickness of the woods and it isn't long before both men have what they're searching for. COLIN wastes no time falling to his knees to grope LITO's crotch and release the impressive slab of uncut beef from his jeans. Bent ass-up over driftwood, COLIN offers up his tight hole to LITO's thick cock. Burying his prick deep in the bottom's belly, LITO fucks his way to a gratifying explosion.
Scene 3: RAIN (featuring CHRISTIAN and JIM FERRO)
One of Max's favorite Fire Island memories is the summer he was told to evacuate the island because of an impending hurricane. Disregarding the warning, he stayed. The place seemed to be deserted–until he walked into the Meat Rack in the middle of the night, and came across an orgy of horny men fucking and sucking wildly, in defiance and one-upmanship of the weather raging around them. So when 2011's Tropical Storm Lee hit while Max was there, he seized the opportunity! As surging waves pummel the beaches of Fire Island, CHRISTIAN is bent over an outdoor deck railing, taking an equally brutal pounding from muscle daddy JIM FERRO. The demanding top makes CHRISTIAN suck hard before ordering him to spread his cheeks and offer his lovechute up to a cocktail of his cum and piss.
Scene 4: SPRAWL (featuring ROCKY DiMARCO and DIMITRI SANTIAGO)
Swaggering Puerto Rican topman DIMITRI SANTIAGO came to Fire Island on a mission: to breed the hole of our newest fuckwhore ROCKY DiMARCO. Sprawled out on an outdoor lounge, the forceful topman takes ownership of ROCKY's mouth and hole, using them for his own selfish pleasure. Ramming, jamming, and pounding away, DIMITRI makes the boy beg for his load–and then pray for it more, louder and louder, until he's convinced the cumslut truly needs his seed deep in his belly.
SCENE 5: JACKIN' / ROOF BANG (featuring CHRISTIAN, COLIN BLACK, COLIN STEELE and LOGAN STEVENS)
Three beautiful men–COLIN BLACK, COLIN STEELE and LOGAN STEVENS–sit side by side, stroking their cocks in speedos as they enjoy the gorgeous and serene outdoor setting of a Fire Island roof deck. Just when the tension is as thick as the men's cocks, CHRISTIAN arrives to take each dick into his mouth. Turning himself into the group's human fuck doll, he generously offers his hole up to each man, one after another, for their every whim and ultimate sperm depository.This one rounds out with some group watersports play, with more piss going into CHRISTIAN's mouth and ass than seems humanly possible. But for this infamously no-limits bottom, nothing is impossible!
Scene 6: SHOWER (featuring CHRISTIAN and ADAM GUNNER)
When they meet up in an outdoor shower, CHRISTIAN and ADAM GUNNER jump at the chance to explore each other. The newcomer topman obviously loves the feel of his bare cock inside Christian's raw hole, and is spurred on by hearing how badly the horny bottom wants to be filled with Adam's cream. They fuck in several positions until CHRISTIAN's desperation to get ADAM's cum blasting inside reaches a fever pitch. Not content with giving just his jizz, ADAM treats the piss queen to a fine dessert of yellow gold. Thoroughly satisfied, the two men share a smoke as they shower off together.
Scene 7: RACK (featuring MATT SIZEMORE and COLIN STEELE)
It's a classic Fire Island story: boy meets boy in woods. Boy rapes boy up against a tree. Boy breeds boy. When the boys are men MATT SIZEMORE and COLIN STEELE, sparks ignite. After some tongue-wrestling, COLIN rips MATT's jeans open and puts his talented, hungry mouth to another use, eating MATT's ass and sucking his dick from between his legs. When MATT gets a look at COLIN's hard cock, he pleads to feel that meat inside his hole–and COLIN gamely obliges. In the end, boy loses boy but is left with the other's cum deep in his guts.
BONUS SCENE: POOL BANG (featuring CHRISTIAN, ZACH BLUNT, DONATO and ADAM GUNNER)
In the bonus scene, CHRISTIAN spends a wet, rainy Fire Island afternoon hanging by the pool, taking all the cum and piss ZACH BLUNT, DONATO, and ADAM GUNNER can give him.